Cartier Project: 3D Pop Up Laser Cut Invitations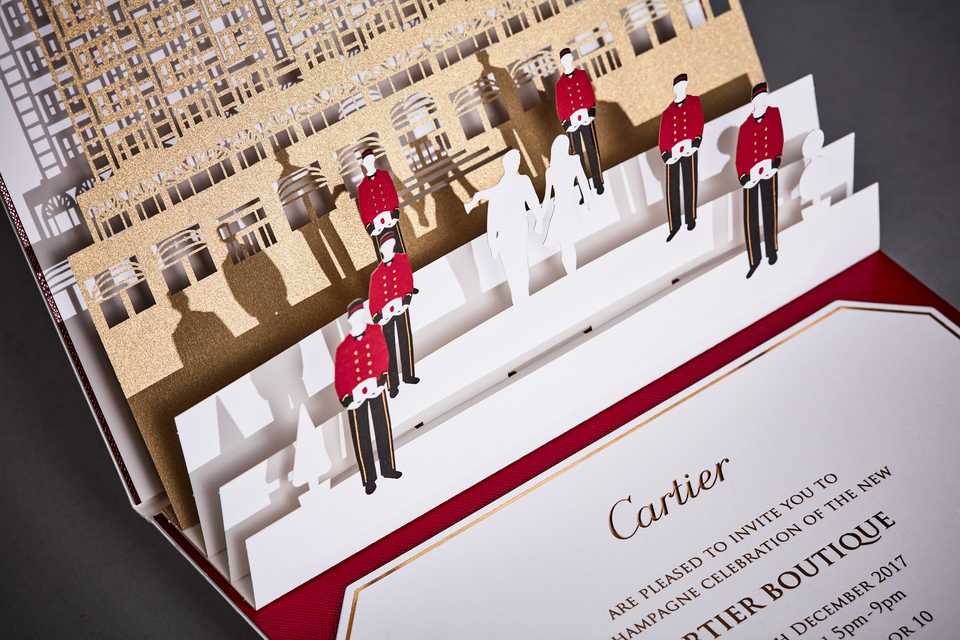 When Cartier was celebrating the reopening of their Harrods boutique, we were commissioned to design and create unique and spectacular laser cut invitations. We used a variety of techniques, including die-stamping, foil blocking, laser cutting and embossing. The exquisite craftsmanship and intricacy of this project reflects the level of quality and attention to detail that defines Downey.
The Client
Cartier: is there a brand name more synonymous with luxury? This French company needs no introduction, and has been creating some of the most beautiful jewellery in the world since the 1800s. We are proud to have a longstanding relationship with Cartier, and have worked on projects from these beautiful laser cut invitations to unparalleled presentation boxes.
The Brief
In the winter of 2017, Cartier came to us with an urgent project, which we were able to deliver within weeks. The brief itself was simple - they were looking for bespoke invitations to announce the reopening of their refurbished boutique in Harrods, just in time for Christmas. They were happy to give us the freedom to flex our creative muscles a long as we kept two things in mind:
The branding - Both Cartier and Harrods have strict branding guidelines. We were tasked with creating something compliant and on-brand yet beautiful and unique.

The experience - An event as large as the Cartier refurbishment launch party needed an invitation to match. The invitations had to give the guests an experience in and of themselves, to hint about the event and build excitement and anticipation.
Here at Downey, we speak the same language as our clients - which is why Cartier knew they could entrust us with these intricate laser cut invitations.
The Process
As with all of our projects, our process begins with a collaboration. We sit down with our clients to fully understand their brief, before our designers meet with one another to discuss how to turn a dream into a reality. We take full ownership of every project we undertake, viewing ourselves as an extension of our clients' team to better represent their brands.
This leads to unparalleled print and design projects that our clients and their guests treasure for years to come.
The Result
Both our team and the client were thrilled with the beautiful end result of these Cartier invitations. They took a hands-off approach, allowing our team of specialists to think well outside the box - an approach that proved to be fruitful.
The finished product was the perfect balance of simple and elegant, seamlessly incorporating gorgeous colouring and effortlessly recognisable branding. This is truly one of our favourite examples of a solution that falls within a brand's visual requirements. We strongly believe that creativity doesn't have to be stifled by branding guidelines, and we have a proven track record of completing projects to brief that blow our clients away.
The outside of the box is meant to be reminiscent of a Cartier jewellery box while simultaneously hinting that it is a present, due to the lovely red ribbon tied into a bow and the shape of the fine gold outline.
Once opened, the recipient is greeted with a 3D pop up of a couple holding hands and walking into the Harrods storefront, flanked by Cartier-branded bellhops. The practical information the invitation had to relay - the type of event, the time, the date, etc. - is simple and refined, yet visually pleasing.
This project is a fantastic example of the phenomenal detail work we are known for here at Downey. We often say that the true mark of luxury is in the details. This is one of the many reasons that brands like Cartier choose to work with us and again.
We Know Luxury, No Matter the Sector
Whether you're looking for the finest handmade stationery, an announcement to delight your clientele or elegant wedding invitation your guests will treasure for years to come, Downey can help. We know luxury and design, from careful craftsmanship to perfect presentation. Please contact us when you are ready to discuss your next design project.