Graff Diamonds Luxury Presentation Box and Bespoke Packaging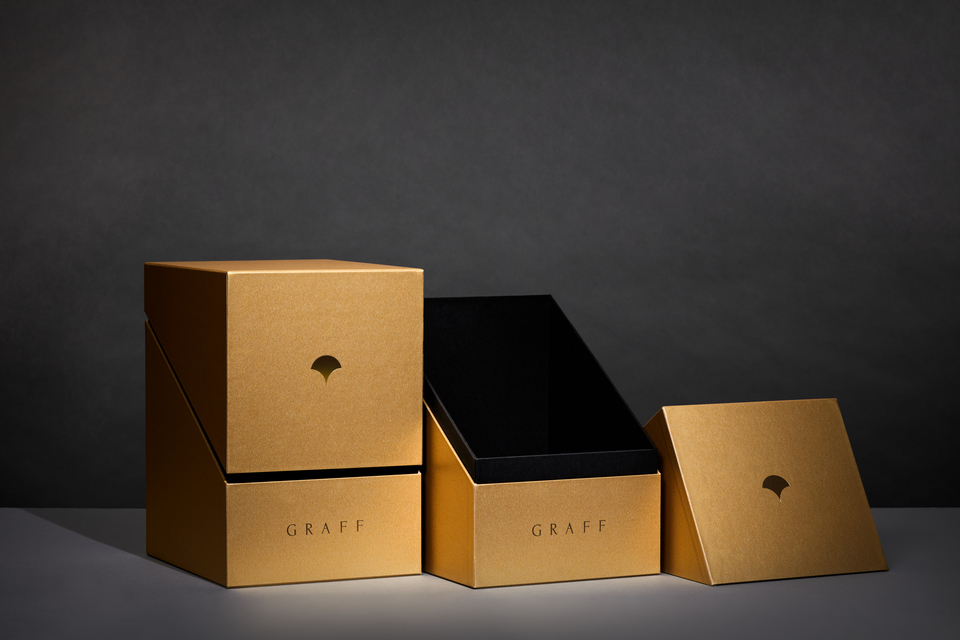 This beautiful luxury presentation box for Graff was made with both functionality and form in mind, resulting in a visually stunning golden box with a packaging design that is both practical and pretty.
The Client
Graff is a multinational specialist in spectacular and fine jewellery, yet remains a family business at its heart. Here at Downey, we intimately understand the needs and wants of these types of companies, as we are a family business ourselves.
The Brief
In February of 2018, Graff came to us with a challenge: they needed bespoke presentation boxes to present image cards of their watches and jewellery, showcasing beautiful photography of their products. The jewellery packaging design needed to be practical, while still maintaining the class and elegance Graff is known for.
This was an extremely urgent project with a quick turnaround, which our talented team were able to expedite and complete in under a month - just in time for these gorgeous bespoke packaging designs to be flown out to the exhibition where they would be displayed.
The Process
Our projects team wasted no time in tackling the brief, first by sitting down with the client to fully understand what they wanted to achieve and giving advice on how to make that a reality. Once they had a detailed idea of what Graff wanted from their bespoke packaging design, they used their years of experience and expertise to choose the perfect materials, colours and schematics.
The Result
The end result was the high quality and completely unique presentation box design you see here, complete with a slanted lid and base that is perfectly angled for a smooth, seamless fit. It features a striking matte black recess and collar that perfectly contrasts with the pearlescent gold paper seen on the outer coverings, which gleam as they catch the light, creating a beautiful visual.
The box packaging design is much larger than most, with the ability to fit A4 image cards within. Yet, despite its size, this custom-printed presentation box is still a perfect example of the minimal luxury look, its gold and black appearance a classic combination fitting of a renowned jewellery brand such as Graff.
Bring Your Luxury Presentation Packaging Project to Life
Here at Downey, we pride ourselves on being highly specialist and creative printers with unrivalled knowledge of the world of printing, from bespoke designs and ideation guidance to production techniques and materials. From presentation boxes like this one for Graff to wedding invitations and more, our team of experts is on hand to help you turn your design dreams into a reality.
If you'd like to discuss an upcoming project with us, please get in touch with our team at your convenience.